MBAdream has helped its students achieve admits in top business schools in Canada, India, France, Singapore, UK, USA, Germany, SPAIN, Netherlands and Australia. MBADREAM is MBA Admissions Consultants in Mumbai.
MBAdream students received admits to schools such as ISB, Rotman, Schulich, Sauder, McGill, Warwick, Manchester, Kellogg, Chicago Booth, UCLA Anderson, Carnegie Mellon Tepper, Virginia Darden, Melbourne Business School, AGSM Australia, NUS Singapore, NTU Singapore, Michigan Ross, WHU Germany, ESMT, IIM A, IIM B, IIM C amongst others. Contact MBADREAM for MBA Admissions Consultants in Mumbai.
MBAdream students over the years have received scholarships worth millions of dollars.
Arpit Zelawat Scheller MBA
I contacted Rahul after giving my GMAT. I came to know about him through one of my office colleagues. From our first talk itself, I got the confidence that he knows his stuff and can guide me perfectly. I was really dependent on him because of my weak essay writing skills. We used to discuss my rough drafts and the final result was always more clear and more articulated. Moreover, he was like a brother to me; I used to call him during odd hours and he was always there to support me. His commitment and expert advice were crucial in my school selection and in drafting individual essays for each of them. Now, I have a full scholarship at Georgia Tech Scheller School of Business and all the credit goes to Rahul.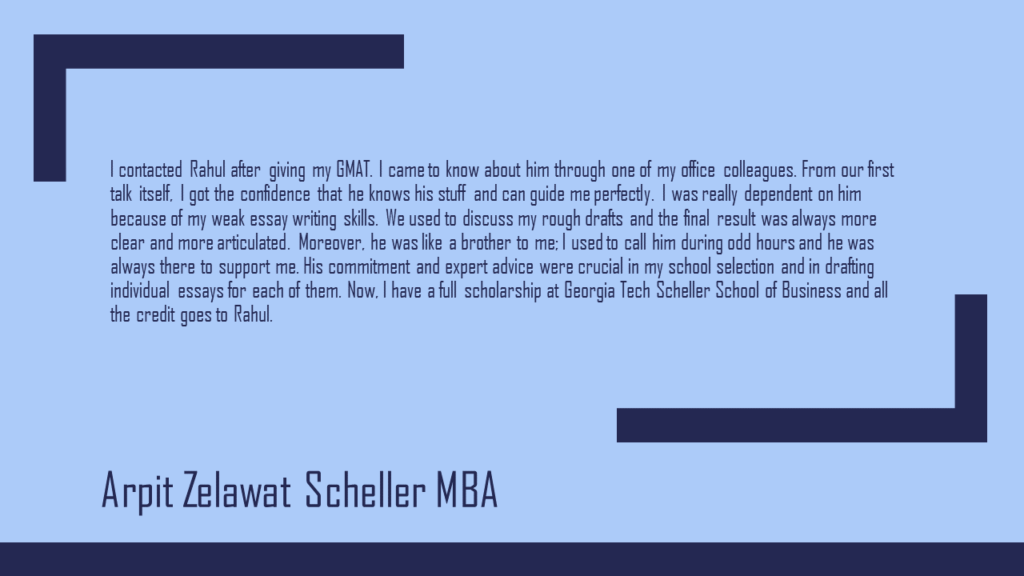 Nishant Verma – IIT BHU (Texas McCombs MBA)
Working with Rahul was an amazing experience. I got admits from McCombs and Kenan-Flagler with excellent scholarships from both the schools. Rahul helped me in selecting the schools that were well aligned with my profile and post MBA goals and was always honest and upfront in giving his opinion on my essays. The final version of the applications came out beautifully and I was able to showcase my strengths very effectively. Would recommend Rahul mbadream to anyone who is looking for maximum value from a capable and dedicated team"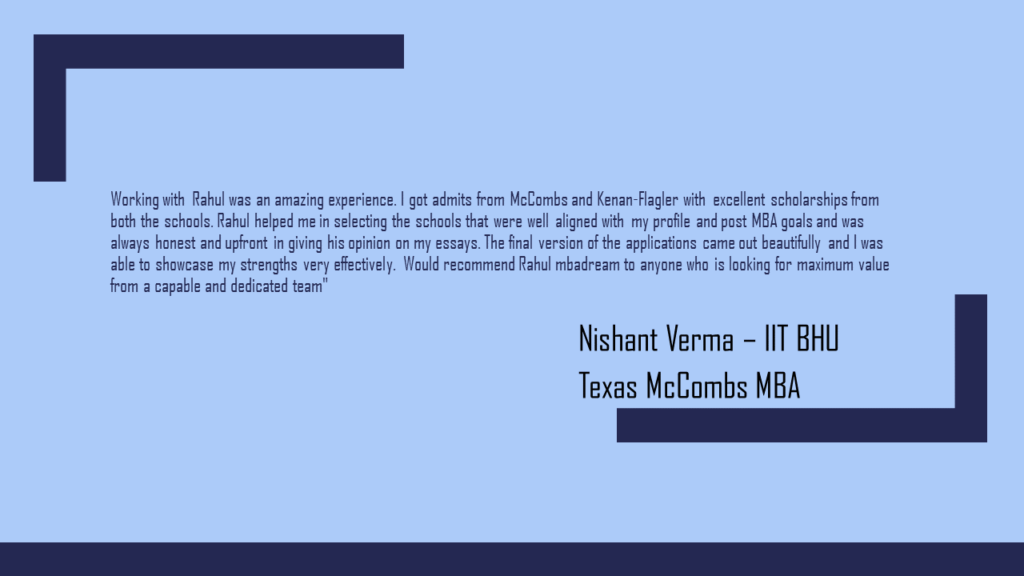 Varun Jogi Texas McCombs MBA
After getting decent GMAT score in 2015, I thought that the battle is over, and I would get into top 11-20ranked B-school with my diverse profile with wide variety of extra-curricular activities. But I was wrong, I hardly got any interview invites for CO2018 even though I took help of couple of admission consultants, but it didn't help me. I was shocked and dishearten. Being re-applicant for CO2019, I had to pour my heart into essays and can't make the same mistakes. I reached out to Rahul and I was impressed in our interaction as he pointed out weaknesses my applications and how I focused on wrong things in my applications. The best thing I liked about him was that he was very transparent from day 1, not like the other consultants who will give diplomatic answers. We started the process by dissecting my old applications of every school where I applied last year.
Rahul was always available not only if I had any doubts but also to motivate & encourage me. We worked together for more than 6months and applied to 10schools, I got interview invites from most of the schools. He helped me to find out the strengths and draft stories to bring best out of me. He helped me to differentiate myself from my peer applicants and make my stories engaging and interesting. Finally, after getting admits from 4-5 schools, Rahul helped me to make right decisions. He helped me to connect to current students from respective school. I am really thankful to Rahul for being there during the entire journey. I would highly recommend him to all MBA aspirants without any doubt!!Once again thanks a lot Rahul!!Regards,Varun Jogi | Master of Business AdministrationMcCombs School of Business | The University of Texas at Austin.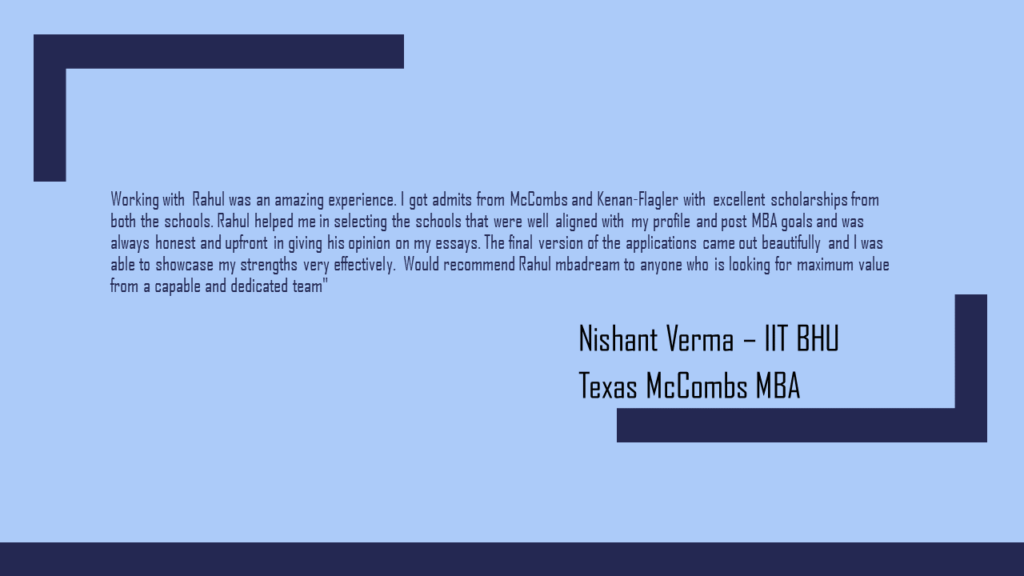 Kartikeya Kaul – GRADUATE OF DCEAdmitted to UCLA MBA
I came to know about MBA Dreams from a friend. On the very first interaction with Rahul I felt very comfortable and knew that he was the right person to help on my applications. Rahul, and his team worked tirelessly to polish my essays and helped to highlight key areas of my profile. Because of their effort I will be going to UCLA Anderson this fall!!""