MBAdream has helped its students achieve admits in top business schools in Canada, India, France, Singapore, UK, USA, Germany, SPAIN, Netherlands and Australia. MBADREAM is Best MBA Admissions Consultants in Mumbai.
MBAdream students received admits to schools such as ISB, Rotman, Schulich, Sauder, McGill, Warwick, Manchester, Kellogg, Chicago Booth, UCLA Anderson, Carnegie Mellon Tepper, Virginia Darden, Melbourne Business School, AGSM Australia, NUS Singapore, NTU Singapore, Michigan Ross, WHU Germany, ESMT, IIM A, IIM B, IIM C amongst others. Contact MBADREAM for Best MBA Admissions Consultants in Mumbai.
MBAdream students over the years have received scholarships worth millions of dollars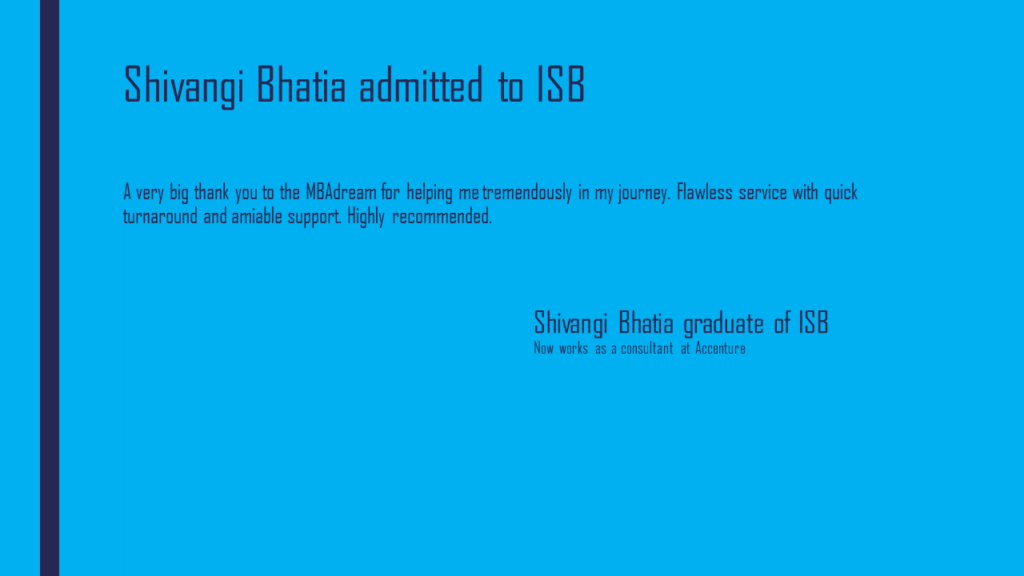 Shivangi Bhatia admitted to ISB
A very big thank you to the MBAdream for helping me tremendously in my journey. Flawless service with quick turnaround and amiable support. Highly recommended.
Shivangi Bhatia graduate of ISB
Now works as a consultant at Accenture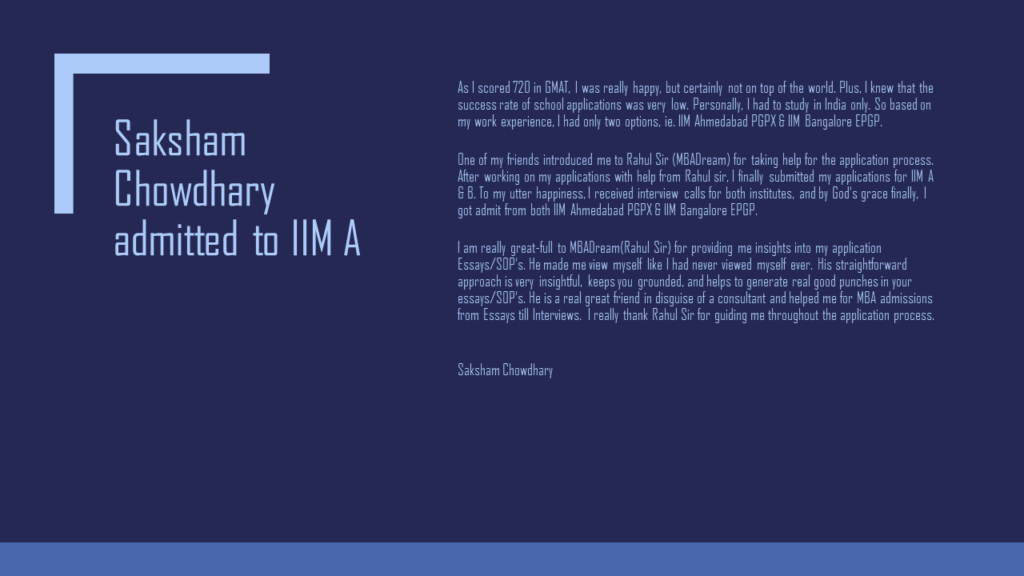 Saksham Chowdhary admitted to IIM A
As I scored 720 in GMAT, I was really happy, but certainly not on top of the world. Plus, I knew that the success rate of school applications was very low. Personally, I had to study in India only. So based on my work experience, I had only two options, ie. IIM Ahmedabad PGPX & IIM Bangalore EPGP.

One of my friends introduced me to Rahul Sir (MBADream) for taking help for the application process. After working on my applications with help from Rahul sir, I finally submitted my applications for IIM A & B. To my utter happiness, I received interview calls for both institutes, and by God's grace finally, I got admit from both IIM Ahmedabad PGPX & IIM Bangalore EPGP.

I am really great-full to MBADream(Rahul Sir) for providing me insights into my application Essays/SOP's. He made me view myself like I had never viewed myself ever. His straightforward approach is very insightful, keeps you grounded, and helps to generate real good punches in your essays/SOP's. He is a real great friend in disguise of a consultant and helped me for MBA admissions from Essays till Interviews. I really thank Rahul Sir for guiding me throughout the application process.
Saksham Chowdhary